FREE FREE FREE
PRIZES PRIZES PRIZES

Contest Ends April 19
Welcome to the Authors in Bloom blog hop. Many different authors have banded together to participate in this blog hop so be sure to check out their blogs to get great gardening tips, recipes, and enter for giveaway prizes. GRAND PRIZE GIVEAWAY! a Kindle Fire or Nook (winner's choice) along with a $25 gift card for the same.
HOW TO ENTER
To be entered for prizes just leave a comment on this blog and the other blogs you visit. See the link at the bottom of this post for all participating authors.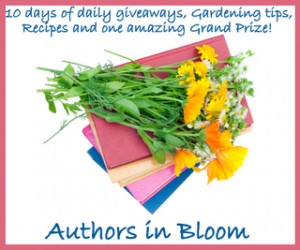 Gardening Tip
Use black garden liner or black trash bags to keep down weeds. Poke a hole for each plant or bulb, then cover with mulch
Giveaway Item from Author Teena Stewart
One copy of Teena Stewart's book,
Mothers & Daughters: Mending a Strained Relationship.
Giveaway for this prize is for U. S. citizens only.